Don't Miss This "Must Attend" Live Event Thursday 11.17.22
Join The Editors of SHOOT, along with our sponsors, on Thursday, November 17, 2022 at the Directors Guild of America (DGA) in NYC to celebrate the 20th Annual New Directors Showcase Event. You'll be treated to several informative and entertaining panels and speakers + the debut screening of SHOOT's 20th Annual New Directors Showcase reel, panel introducing the new directors and after-party at The-Artery.
This Is a "Must Attend" For directors, broadcast & content managers, movie, TV network, OTT and ad agency heads of production, producers, creative directors, brand marketers, production/post company owners, managing directors, executive producers, cinematographers, editors, VFX artists, music editors, writers, and other motion picture industry talents. This event is FREE OF CHARGE for qualified attendees thanks to our Sponsors! Sponsors to date include the DGA, harvest films, FKKS and The-Artery.
We'd love to add you to this list! BECOME A SPONSOR!
Get Face to Face with New Connections and New Information Get "Face to Face" with the future of content creation and some of the innovative executives and artisans on the forefront. SHOOT, because its coverage and readership is inclusive of commercial, branded content & entertainment production, is able to utilize this unique vantage point to produce an event that brings various advertising & entertainment -&- various business & creative industry segments together to meet and learn about and from each other.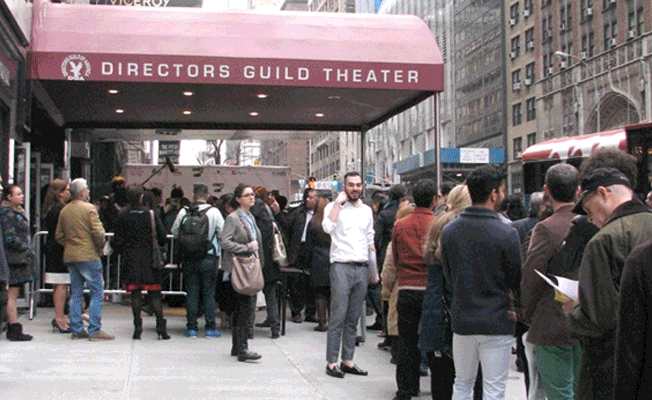 Come and be part of the industry conversation!
Make your business calls in the morning, then unplug and spend the late afternoon and evening with a cross-section of commercial & entertainment production and post executives from agencies, brands, production/post/vfx/music & sound/technology companies, networks and studios as well as leading directors, cinematographers and up-and-coming directors.
During the evening Showcase Program, you'll get a look-see at and meet some of the best up-and-coming directors who based on their initial work show promise to make positive contributions to advertising and/or entertainment in its traditional and hybrid forms.
Here's a look at Agenda …
3:00PM-3:25PM Attendees check in: be sure to arrive early, we will start on time & you won't want to miss the first session!
3:35-4:25PM In The Director's Chair interview with Lauren Greenfield, co-founder, INSTITUTE
Described by The New York Times as "America's foremost visual chronicler of the plutocracy," Lauren Greenfield is the founder of INSTITUTE and an award-winning filmmaker and photographer known for her groundbreaking work on consumerism, youth culture, and gender. Her documentary films "Thin," "The Queen of Versailles," "Generation Wealth" and "The Kingmaker" have been lauded by critics, screened at numerous film festivals around the world, and earned accolades including Best Documentary Director Award at the Sundance Film Festival ("Queen of Versailles"), the Film Independent Spirit of Independence Award ("Generation Wealth"), the Critics' Choice Award for Most Compelling Living Subject of a Documentary ("The Kingmaker"), and multiple Writers and Directors Guild nominations ("Queen of Versailles," "Generation Wealth," "The Kingmaker").
Greenfield's iconic photography, which dissolves the traditional boundaries between photojournalism, fashion, documentary, and fine art, has received nearly every award in the industry and been screened, published, and collected by leading cultural institutions. Greenfield has also applied her photographic vision to print advertising and commercials, creating innovative spots and print campaigns for major international brands including Apple, Amex, Asics, Bayer, Chevy, Coca-Cola, Gatorade, Goodyear, Hewlett Packard, Isuzu, LinkedIn, Microsoft, Nike, Pepsi Lifewtr, Tampax, Target, Toyota, US Bank, Wal-Mart, and XBox. Her Super Bowl spot "#LikeAGirl" for Always is widely considered one of the top ads of all time. It swept the industry awards, receiving an Emmy, 14 Cannes Lions (including the Titanium Lion), seven Clios, five ADC Awards, eight D&AD pencils, and Best in Show at the AICP Awards. In 2015, Greenfield made history as the first individual woman director to be nominated for the DGA Award in the commercials category. In 2019, she and her husband and producing partner Frank Evers founded Girl Culture Films to address the advertising industry's systemic lack of diversity. Girl Culture Films has recently evolved into INSTITUTE and broadened its directorial roster to be more inclusive of all underrepresented talent regardless of gender. INSTITUTE furthers the mission of uplifting diverse storytellers in advertising.
Greenfield will discuss her filmmaking career, INSTITUTE, the recent commercialmaking debuts–via her company–of Karyn Kusama ("Yellowjackets") and Pamela Adlon ("Better Things"), and what's next for her as a director.
4:30-5:30PM Panel Discussion: Living on the Cutting Edge Of Content
As lines continue to blur between advertising and entertainment, the opportunity to create cutting-edge content has grown exponentially. This discussion features panelists who live on that ever expanding edge with the emergence of the Metaverse, augmented reality, NFTs, AI, experiential and new ways of creating entertainment–some of which enables brands to connect on different levels with consumers. The next chapter of creation and production has begun as SHOOT seeks insights into–and deeper understanding of–the implications for producers, directors and creative talent.
Panelists:
Jeffrey A. Greenbaum, managing partner, Frankfurt Kurnit
Tatiana Lanier, sr. integrated producer, Ogilvy NY
Dave Rolfe, global head of production, WPP and Hogarth
Vico Sharabani, founder and ECD, The-Artery ​
5:50PM Directors Guild of America (DGA) & SHOOT Welcome remarks
6:00– 7:00PM SHOOT 20th Annual New Directors Showcase Reel Screening
See the work that earned the directors their slot in this year's Showcase. The NDS Class of 2022 includes a fantastically diverse group of directors including recent film school grads, agency creatives, photographers, actors, writers, an assistant director, an athlete who broke in with surf and skiing films, producers and live theater artisans. Our '22 Class consists of 18 male and 15 female directors; 21 have production company affiliations and 12 are currently unaffiliated.
7:05 – 8:00PM Panel: Meet the SHOOT New Directors Showcase Directors
Several of the new directors share insights into their work and future goals. An Ad Agency and Production Company exec join the discussion to add their perspectives on working with new directors.
Panelists:
Bonnie Goldfarb, co-founder/executive producer, harvest films
Evan Silver, co-founder / director, Reform School & NDS director 2007
Additional panelists TBA
8:15 – 10:30PM NDS After-party
Join us for food, drink and great conversation at The-Artery to celebrate the 20th Anniversary of the SHOOT New Directors Showcase and the NDS Class of 2022 with industry friends, potential collaborators and clients. Meet the event panelists, speakers, sponsors and directors in the NDS Showcase. Address/directions for The-Artery will be listed on final confirmation you'll receive prior to event.
We hope you'll join us for the 2022 NDS Event! Having your finger on the talent pulse of the business is a perennial must to stay plugged into the present and future of our industry. Join directors, broadcast & content managers, network executives, agency heads of production, producers & creative directors, production & post company owners, directors, cinematographers, editors, VFX & music company execs/artisans, agents and more. Most of the companies that registered and attended last NDS event: REGISTER HERE to request event ticket.
We hope you'll join us for the 2022 NDS Event! Having your finger on the talent pulse of the business is a perennial must to stay plugged into the present and future of our industry. Join directors, broadcast & content managers, network executives, agency heads of production, producers & creative directors, production & post company owners, directors, cinematographers, editors, VFX & music company execs/artisans, agents and more. Most of the companies that registered and attended last NDS event: REGISTER HERE to request event ticket.
360i
5 ENTERTAINMENT
A:D TALENT MANAGEMENT
ABC
ADOBE
ADOLESCENT CONTENT
AFTERSHOCK DIGITAL
AICE
AICP
ALKEMY X
ALREADY ALIVE
AMERICAN EXPRESS
ANALOGUE MUSE
ANARCHY INTERNATIONAL
ANCHOR EDITORIAL
ANIMATICMEDIA
ANOMALY
ANU ENTERTAINMENT
ARC9
ARNOLD
ARNOLD NYC
ARRI
ARRI RENTAL
ARTS & SCIENCES
ASBURY SHORTS USA
ASSEMBLY
ASSEMBLY & MACGUFFIN FILMS
ASSOCIATION OF COMMERCIAL PRODUCERS
BANG NY
BARRIE ISAACSON MANAGEMENT
BBDO
BEING ME PRODUCTIONS
BELMONDO PICTURES – THE GOODS PRODUCTIONS
BEN DOLPHIN PRODUCTIONS
BERGER PRODUCTIONS
BEYONDNICE PRODUCTIONS
BIG PICTURE MEDIA
BIRD BONETTE STAUDERMAN
BLEND IMAGES
BLONDE + CO
BLOOMBERG LP
BLUE BARN PICTURES, INC.
BLUEROCK
BODEGA STUDIOS
BROKENTOY
BT FILMS
CALVIN KLEIN
CAPS PAYROLL
CAROLYNREPS
CAUSE & EFFECT
CBS
CCM CREATIVE MGT
CENA ENTERTAINMENT
CHARLIE UNIFORM TANGO
CHELSEA PICTURES
CHESHER CAT PRODUCTIONS
CINEMA UNION
CLICK 3X
CLP INC.
COMBE, INC.
COMMAND PERFORMANCE PROD'S
COMMUNITY FILMS
COMPANY 3
COMPLETE PRODUCTION GROUP
COOLEY LLP
COOPERBEY ASSOCIATES LLC
CORBIS ENTERTAINMENT
CREATIVE MIXING
CREW CUTS
CROWNED KINGS PRODUCTION
CULTIVATE.MEDIA
CUTTER PRODUCTIONS
CUTTERS STUDIOS
D-SQUARED MEDIA NYC
DEEDS NOT WORDS, LLC
DELLA FEMINA
DELUXE ENTERTAINMENT
DERBY CONTENT
DEUTSCH
DIGITAS HEALTH
DIGO
DIMENSION FX
DIRECTORS GUILD OF AMERICA
DON'T PANIC PRODUCTIONS
DONNA MCKENNA PRODUCTIONS
DOUBLE E COMMUNICATIONS
DRIVE ELEVEN
DROGA5
ECB FILMS
EJR PRODUCTIONS
EPIDEMIC SOUND
ERICA PALGON CASTING & BEYOND
EXECUTIVE CASTING AND PROD.
EYE CANDY EDIT
EZELL MEDIA
FANCY CONTENT
FCB
FIGMENTS
FINAL CUT
FINNEGANS WAKE FILMS
FIRST LOOKS ADVERTISING
FLYING WOMAN PRODUCTIONS
FORTUNA ENTERTAINMENT
FOUND OBJECTS
FRAMEPOOL STOCK FOOTAGE
FRAMESTORE
FRANKFURT KURNIT
GARDEN STATE FILM FESTIVAL
GARDNER NELSON + PARTNERS
GARTNER
GET KINETIC
GGPR & SOCIAL
GIRALDI MEDIA
GKIERNAN CREATIVE
GLUCKSTERN FILMS, LLC
GO EAST FILMS
GOOD ENGINE MEDIA
GOODSTORY FILMS

GOOGLE
GREENCARD PICTURES
GREENER MEDIA
GREENLIGHT
GREY
GROOVE GUILD
GUM STUDIOS
HAPPY UNITED
HARDTRYER ENT.
HARVEST
HBO
HEARD CITY
HELLO TOMORROW
HELO
HIDEOKI PRODUCTIONS LTD
HOMESTEAD
HONOR SOCIETY
HUMBLE TV
HUNGRY MAN
HUNT&GATHER
HUSTLE
HYBRID EDIT
IAN LONDON PRODUCTIONS
ICROSSING
INCENSED MEDIA
INDUSTRIAL COLOR
INTL CINEMATOGRAPHERS GUILD
J. WALTER THOMPSON
JENNIFER AJEMIAN CASTING
JG PRODUCTIONS, LLC
JUICE MEDIA
JUMP
JWT
KIDS AT PLAY MEDIA
KNOCK IT OUT MUSIC
KORNWOLF LTD
KRANKY KONTENT / TENT CONTENT
LAIR
LEGS MEDIA // MILK STUDIOS
LEW & CO
LIBERAL MEDIAL FILMS
LIGHT IRON
LINDA MCALISTER TALENT
LITTLE RED ROBOT
LIVELY GROUP
LIZ LEWIS CASTING PARTNERS
LOCAL 600
LOGICAL CHAOS
LOREN SMITH.TV
LORI BENSON & CO
LOTUS FILMS
LOXLEY PICTURES
LUX CONTENT
LYONS TRAIL COMMUNICATIONS
M SS NG P ECES
MACGUFFIN FILMS
MAD MONK
MAKE TV PRODUCTIONS
MARCATO INC.
MARINEO PICTURES
MARRO ASSOCIATES/SMP
MATADOR INC
MAVEN LABEL
MAX EDIT / MICHAEL HOERNER
MELLOW ELEVEN PRODUCTIONS
MERKLEY & PARTNERS
METHOD STUDIOS
MICAH3
MICHAEL FIORE FILMS
MINERVA CONTENT
MINO PICTURES, INC.
MIRSKY REPS
MIRTH ENTERPRISES
MISS SMITH
MJZ
MOHAWK VISUALS
MOTHER WEST
MULLENLOWE
MUSEUM OF MODERN ART
NAPOLEON GROUP
NBC SPORTS
NBCUNIVERSAL
NEED FINANCIAL SERVICES
NETAPR
NEW YORK UNIVERSITY
NICE LITTLE PICTURE
NICE SHOES
NICKELODEON
NICKELODEON CREATIVE ADV.
NLP PRODUCTIONS
NOMADA FILMS
NORTH END PICTURES
NORTH OF NEW YORK
NORTHERN LIGHTS
NYC.LOCATIONSCOUT.US
NYLON MEDIA
NYPRODUCER
NYU GRADUATE FILM PROGRAM
OGILVY & MATHER
OGILVY NY
ORKAILA PRODUCTIONS
PAI HOLDINGS – BAD MEDIA PROD.
PALACE PRODUCTIONS
PANAVISION
PARAMOUNT
PERCEPTION MANAGEMENT INC.
PEREZ BROS
PETER SANG COMMUNICATIONS, LTD.
PLAN B
POLLOCK SPARK
POP FILM INC.
POP SOUND
PRODUCERS GUILD OF AMERICA
PUBLICIS HEALTHCARE
PUBLICIS KAPLAN THALER
PULSE MUSIC

PURE GROWTH
QUIETMAN
QURIOSITY PRODUCTIONS
QVC
R/GA
RABBIT
RADIOAKTIVE FILM
RED ZEPPELIN PROD'S
REVEAL
REVEAL 42, INC.
RICARDO CAUSO PROD'S
RIGHT WORD MEDIA
RMG
ROCKAWAY PRODUCTIONS
ROY EATON MUSIC
RUTH A. GUTMAN PROD'S
SAATCHI & SAATCHI
SAATCHI NY
SAG-AFTRA
SAINT JAMES STUDIOS
SANCTUARY
SANCTUARY CONTENT
SAPIENTNITRO
SARAH LAIRD & GOOD COMPANY
SASS MEDIA
SAVAGE
SCHAFFERROGERS
SCHOOL OF VISUAL ARTS
SHADOWFISHER PRODUCTIONS
SHOOT FIRST ENTERTAINMENT
SICMANTA
SILBERMAN PRODUCTIONS
SILVER SPOON
SIRK PRODUCTIONS
SKY OVER PRODUCTIONS LLC
SKYFRAME PICTURES
SKYLIGHT PRODUCTIONS
SLIM PICTURES
SMOKE & MIRRORS
SNAPSONIC
SOLANO MEDIA
SONIC UNION
SONY
SONY ELECTRONICS
SOUL WAVE PRODUCTIONS
SOUTHEAST PROD. SERVICES
SOUTHWEST PRODUCTIONS
SPECTACLE
SPITFIRE FILMS
SPONTANEOUS/SCARLETT
SPY FILMS
STINK
STRIKE MEDIA
SUFFOLK COUNTY FILM COMM.
SUIRAD PRODUCTIONS
SUNFLOWER ENTERTAINMENT
SUPERPOWERS
SUPERPOWERS NYC
SYNCRO SERVICES, INC.
SYNTHETIC PICTURES
TABLE OF CONTENT
TAYLOR JAMES
TBWA
TBWA/CHIAT/DAY
THE BEACH
THE COLONY
THE DRAFTING BOARD
THE EMMER GROUP
THE EMMER GROUP
THE FIELD
THE FIRCHOW COMPANY
THE IHA INC.
THE IN-HOUSE AGENCY INC.
THE MADISON SQUARE GARDEN CO
THE MILL
THE MOLECULE
THE ORCHARD
THE RICHARDS GROUP
THE SHED
THE SHED MEDIA LLC
THE STUDIO
THE TEAM COMPANIES
THE WEINSTEIN COMPANY
THEBRIDGE.CO
THEORY FILMS
TIERNEY
TINYGIANT
TOKYOPOP
TOOL OF NORTH AMERICA
TOWN & COUNTRY CREATIVE..
TRANSLATION
TRAVELING PICTURE SHOW
UNAFILLIATED
UNCLE LEFTY
UNITED NATIONS
UNLEADED MUSIC
UPRISING CREATIVE
VISSION
VOYAGER
WALTER PICTURES
WARNER BROTHERS
WASHINGTON SQUARE FILMS
WATER INTO WINE
WE FLY COACH
WEBER SHANDWICK
WIEDEN + KENNEDY
WONDER BOY AUDIO
XY CONTENT
Y&R
ZIASCOPE
Event Registration
New Directors Showcase event & After Party to production & post executives and artisans from Movie studios, Ad Agencies, Brands, Networks, Creative Studios and Companies.
PLEASE NOTE: We are limited to 436 seats in the Theater so we expect the event to fill up fast. We will do our best to accommodate all qualified registration requests, but we may not be able to accommodate everyone. We would greatly appreciate it if you DO NOT fill out the registration form until you are certain that you will be able to attend and if you register, and then find that you are unable to attend, please let us know so that we are able to include someone on the waiting list.
You are welcome to fill out the form below and you will be notified in advance of the event that you are registered.
Registration Ticket Request includes Attendance to….
The afternoon panels
The New Directors Showcase Screening & panel
After-party
PDF directory of attendees for future business networking emailed a few weeks after the event. (PDF directories will only be emailed to those who attend the event; if you register & don't attend, you won't receive the directory. )
Guaranteed Seating & PDF Directory
Any SHOOTonline PLUS member (paid level) or higher member level registering for this event is guaranteed a ticketed seat and all PLUS & higher level Members will receive the PDF Attendee Directory whether or not they attend (note: memberships are checked/verified before tickets and directory issues). Purchase SHOOTonline PLUS Memberships Here Guaranteed Seating will also be available to: Selected Directors in the 2022 New Directors Showcase + one guest, Event Speakers/Panelists, Sponsors & Sponsor Guests.
Those who qualify for guaranteed seating MUST still fill out the form below.